Shopping Cart
Your Cart is Empty
There was an error with PayPal
Click here to try again
Thank you for your business!
You should be receiving an order confirmation from Paypal shortly.
Exit Shopping Cart
We are please to confirm that the Friends of Ashby Bath Grounds in partnership with Ashby de la Zouch Town Council have received £44,600 from the Heritage Lottery Fund (HLF) for an exciting project led by volunteers to create all weather footpaths and a heritage trail around Ashby Bath Grounds. The HLF funding, together with £20,000 previously awarded by North West Leicestershire District Council (NWLDC), means that the Friends of Ashby Bath Grounds have now raised the full £65,000 required and work will commence this autumn.
There will be opportunities to get involved with a wide range of activities including discovering archaeology using surface techniques, performing a ballad, creating a mosaic and taking part in a programme of lectures and guided walks. If you are interested in taking part please come along to the project launch event at Hastings Cricket Club on the Bath Grounds on Sunday 20th September 2015 starting at 11:30am. All are welcome. There will be a brief introduction to the various planned activities and a celebratory drink and buffet. You can also keep in touch with specific project activities and events via the new Project website www.bathgroundspath.com.
Commenting on the award, the Secretary of the Friends of Ashby Bath Grounds, Clare Birch said: "We are thrilled to have received the support of the Heritage Lottery Fund. We believe that this project will develop community pride and knowledge of the history of the Bath Grounds as well as providing a much needed, all weather pedestrian route between the two entrances. This will be particularly useful for elderly residents and parents with push chairs as well as attracting tourists through the park. We are hoping for a big turnout at the launch event on 20 September."
 We will be raising money for the Hospice Hope Charity and the Friends during this year's Ashby Arts Festival.Our plant sale will rely on the kind donations of the public, local groups and friends to make this a successful event. If you have any plants to donate please contact Clare Birch at [email protected] or tel 07958 232291or you can deliver them between 4 - 7 pm on Fri 22nd May at the Cricket Clubhouse on the Bath Grounds.
Thanks to the online votes of our members and supporters, we have been awarded one of the District Council's "£20k for 7" grants.
Claire Birch, Secretary and Elaine Robinson, Acting Chair collectied the Friends' "Golden Ticket" from Council Leader Richard Blunt at the awards ceremony on Wednesday 17th December 2014. See the photo on our Projects page 
We still have to raise a further £25000 to make the footpath a reality and the Golden Ticket will only be honoured by the Council when our fund raising reaches another £20k. So the real challenge now begins.
We have recently begun the process of applying to the Heritage Lottery Fund for the rest of the money and will be meeting with them in the New Year to discuss our bid.
Great new on Funidng!
We have just heard that our application for £20,000 towards funding for the Bath Grounds Footpath Project has been supported "in principle" by North West Leicestershire District Council.
However, this doesn't mean that we are certain to win the funding. We now need you, and everyone you know, to prove that the Project commands a high level of support amongst the community.
To do this you need to vote for the "Area 5" Project on the council website. You can vote by following this link http://www.nwleics.gov.uk/247vote.
You will have to register on the site and then place your vote. Although ours is the only Project submitted for Ashby you still need to vote for it so that we can prove to the Council that it's well supported. And please only vote for our Project as its popularity will be judged against the number of votes for the other Projects.
Don't worry if you don't have your own email address. Just register using an address made up as follows: [email protected] We are assured that will work.
The closing date for voting is Sunday 9th November so please VOTE NOW.
We have now submiited a bid for £20,000 to the North West Leiciester District Coucil £20k for 7 scheme and are awaiting confirmation of eligibility. If everything is in order our Footpath Project will be placed on their website and the public invited to vote on it's merits against any other community projects which have been submitted for Ashby.
To get the money we will need to attain the most votes.
We'll keep you posted on progress and let you know details of how to Vote for the Project as soon as we hear.
If we are successful we will still need to raise another £25,000. So we have also submitted an "Expression of Interest" to the Biffa Awards scheme. This allocates money from the Landfill Communities Fund and was the reason why we have recently changed our Constitution. They will be letting us know shortly if they want us to submit a full funding bid.
Again, watch this space!

Many thanks to everyone who attended our fundraising quiz at the Plough on the Green in Ashby last Thursday night (3rd July). You helped us raise £90! This will help us continue the campaign against building on the Bath Grounds and help us develop our footpaths project.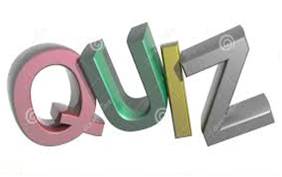 At the Plough on the Green, Ashby. Thursday 3rd July at 8:45 pm.
As many in a team as you like. £1 per person.

/